Canoe Safari
Our Royal canoe trip is something that shouldn't be missed. You will first enjoy a boat trip down-river to where the canoes await you, each one carrying one or two passengers and a guide. Previous canoeing experience is not a pre-requisite while an ability to sit still helps considerably!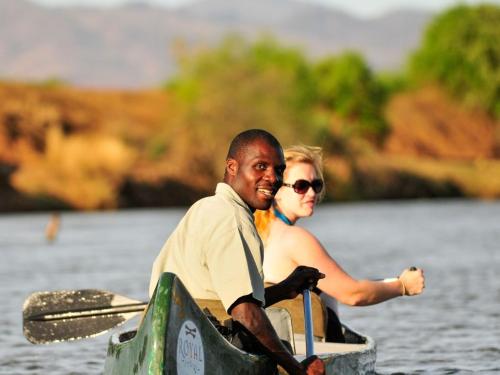 The trip usually involves about two or three hours paddling, being paddled or just drifting downstream on an offshoot from the main Zambezi which has formed a fairly narrow channel around what is effectively a large island. Most of the channel is fairly shallow and most of the trip is slightly below low banks, occasionally well below high banks, through pristine bush and fairly narrow grassy flood plains with heavier bush as a close backdrop.
The canoeing experience involves peace and tranquility punctuated with animal magic in all its forms. Everyone keeps a wary eye open for crocs and hippos and the guides know how to avoid "surprising" them. Game viewing from that low level is quite different and quite wonderful. The wildlife simply doesn't care about these floating objects and goes about its business quite uninterrupted. The higher river banks provide burrow type nesting sites for bee-eaters and kingfishers which always abound.

Some people like the cooler early morning trip while most prefer the afternoon with the sun behind. The choice is yours and each trip is different. Lions have been seen stalking and killing impala. Leopard have been spotted on a branch watching the world go by. Elephant cross the water to and from the island where the vegetation provides plentiful browse. Cape buffalo graze on the floodplains on either side.
At the end of the trip refreshments of your choice await you on the river bank at the confluence with the main river. This is an unforgettable blend of action and serenity and an experience for which many return.
An further option is making your return trip by vehicle when you will enjoy a game viewing drive through the park back to the Lodge. Spotlights are provided for the evening part where one looks out for crepuscular action as the nocturnal creatures start to hunt.