DNA (Do nothing at all)
The DNA option often turns out to be a total misnomer as the goings-on in a quiet camp often leave you breathless. The concept of DNA is essentially to stay in camp, spend time relaxing by the main pool or bar, chatting to folk on the deck, browsing through the many reference books in the lounge or staying in your suite simply D'g NA.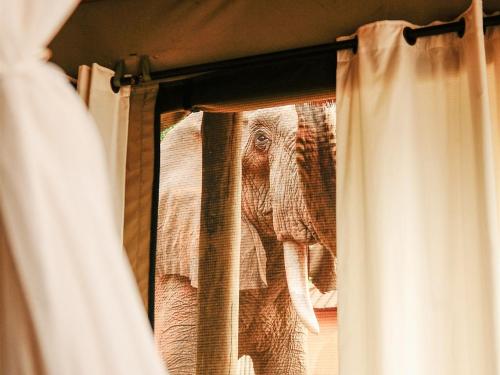 However it's only when you find yourself nose to trunk with a bull elephant while lying on your day-bed or a mum and her calf munching close by your plunge pool that you realise what "relaxation" can actually entail! These visitors can't read a "Do not Disturb" sign and they don't know what "shoo" means! It's their place too and always has been so remember to look right and left before leaving your suite!
D'you call that DNA? – you might rightly ask!
Unique photo opportunities in the camp are therefore numerous and you will also fail to miss the ongoing distractions on and around the river and the chorus of calls from a multitude of birds, monkeys and baboons which pervade the camp particularly when it's quiet. The Lodge area is a bird watcher's delight due to the variety of habitats and cover available particularly the large shade trees under which the Lodge complex is built. Never a dull moment!
If you really want to relax then all is not lost – the Bush Spa is of course another form of DNA as is the exercise machine by the pool, the pool itself or simply catching up with the news at home with our wireless internet service, maintained with boosters throughout the camp.
Of course our waiters are always on hand to keep you well supplied with refreshments at all times and there are service telephones in the suites.
DNA – well you may actually have to work at achieving it!