Fishing
Fishing on the Lower Zambezi offers one of the finest freshwater angling experiences in the world and is home to one of the world's premiere game fish, the Tiger. The variety in the Zambezi, Hydrocynus vittatus, can grow up to 10 -12 Kg and is a superb fighter.
The best time for Tiger Fish is during our hot months of September through to November. Expert resident guides take fishing excursions on new, fully-fitted aluminium boats. For guests who are new to fishing or fly-fishing, our guides provide expert instruction and assistance.

There are plenty of bream and chessa to catch or use as bait, as well as many varieties of catfish. You will certainly have a fight on your hands if you hook a Vundu (Bagrus Catfish), which can grow up to almost 100 lbs! Other species of interest are the Three Spot Bream, Red Breasted Bream, Nile Bream, Chessa, Nkupi, Bottlenose and the Cornish Jack.

The waters of the Lower Zambezi are free from netting and therefore are your best bet for lots of big fish. We enforce a strict catch & release policy at Royal. As we have the privileged situation just outside the National Park, we are not restricted on the number of boats we can operate therefore can have up to eight boats out on the river at any one time.

Guide, fuel and tackle are provided, however we recommend serious sport fishermen bring their own gear – see below for suggestions. Medium-heavy action 20lb spinning or baitcasting rods/reels work best. Wire leader is essential, as are good quality sharp hooks attached to bright, shiny spinners and spoons.

Our experienced guides will take you to all the best fishing spots and guide you through the whole process. Whether you are a complete beginner or a professional angler we can guarantee you that catching one of these mighty fish is an experience you will never forget!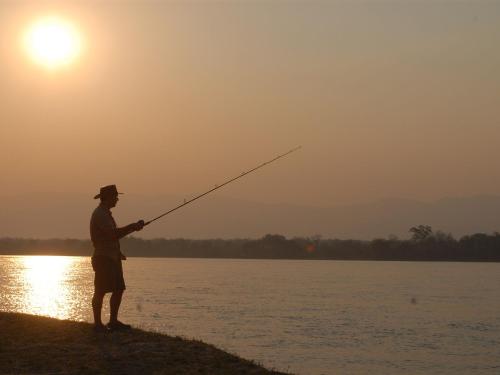 Bait-casting rods (2) 6ft MH action
Spinning rods (2) 6ft MH action
NOTE – Casting or spinning rods, depending on your personal preference. Casting rods have been historically easier to cast and troll the large plugs, spinners and spoons needed to tempt tigerfish. Consider 2 or 3 piece travel rods for easy carry-on packing as opposed to cumbersome, 7 foot rod tubes.
Casting or spinning reels + spare: Should possess smooth drags and have capacity to handle 125 yards of 14-20lb abrasion resistant line.
Extra line (changing line is often necessary)
20-30lb wire test leaders (18-24 inches)
Fishing tackle suggested for fly fishing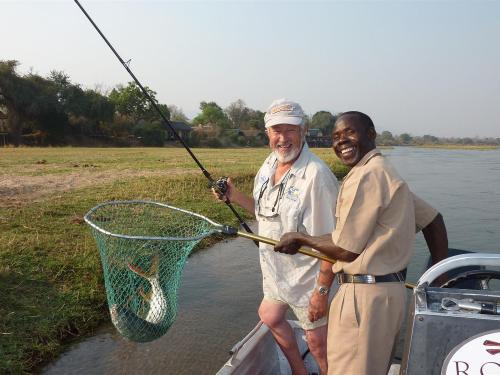 Fly rods (2) from 8wt to 10wt
Weight forward floating line
300 and 400 sinking fly lines
Tippets 20lb and per your liking
Wire Leaders 20-30lb
Spare backing, spare lines, spare leaders
Flies (at least 30): Clouser deep minnow, Lefty's Deceivers, other Epoxy or weighted head baitfish pattern flies in the 2 to 4 inch range on 2/0 hooks in the following colours: Silver, silver & red, black and silver, orange, white, chatreuse, Yellow. Also add flashabou or similar as attractor to most flies