Rubatano Day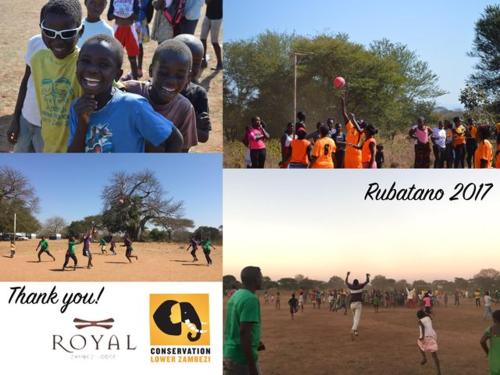 Rubatano' (Unity in the local language Goba) is CLZ's annual community sports day that brings together local netball and football teams to battle it out on the pitch for the grand prize of being the strongest, fastest and fittest team in the area. The event is aimed to promote relationships between the local community members, DNPW, conservation, lodges and other stakeholders outside of the law enforcement realm with which CLZ is often associated.
2017's event news and thanks:
"We would like to thank you for the generous support towards Rubatano 2017, without which the day would not have been possible. We had a record turnout with 18 football teams and 17 netball teams battling it out on the grounds for the title of the Rubatano Champions 2017, in front of over 1,000 spectators.
As the sun went down, Chakanaka Football Team beat the home side Chilimanga Tigers in a dramatic final to walk away with an amazing first prize ZMW 2000 cash, a bag of National Milling Roller Meal per player and an amazing Sunny Money solar light each. Meanwhile the reigning champions of Netball, Kabwadu, walked home with the same prize to take the championship for the fourth year in a row! Second, Third and Fourth place teams were all recognised with prizes for their success.
Thank you so much for the support, with it we were able to grow Rubatano Day and build relationships between a number of different stakeholders, as well as sending some important messages about deforestation!"