Welcome to the Family Experience (We welcome all children from 6 years+)
Why Go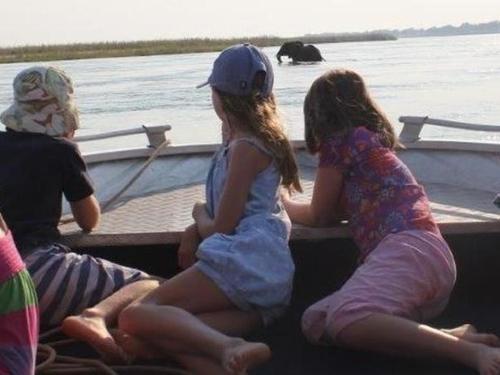 Located in Zambia on the banks of the mighty Zambezi River, Royal Zambezi Lodge offers the ultimate in luxury whilst experiencing and participating closely in the sights and sounds of the African wilderness. A spacious yet intimate lodge with 15 airy canopied tents nestled under the mature trees along the river bank.s
Offering a dedicated family chalet – close to our central guest relaxation & dining area. The family chalet consists of 2 Classic Suites joined by an outside lounge area between the 2 suites for the family to enjoy.
Our Presidential Suites can also be easily converted into beautiful family chalets.
The tents are impeccably furnished with a contemporary, understated elegance – a perfect balance between extreme comfort and an unspoiled wilderness experience.
What to Do
The lodge has its own pristine river frontage and scenic mountain backdrop of the valley escarpment together with the Lower Zambezi National Park right on its doorstep, boasting a wildlife rich landscape and more wonderous backdrops. The lodge has enthusiatic guides with many years of experience to take you exploring whether on a game drive, bush walk, fishing, canoeing or cultural village tour.
Activities for children range from educational nature walks & drives to river island games & entertainment with our qualified professional guides.
One of the best things about our location is we can offer children exciting fishing activities on the Zambezi River – famous for it's Tiger fishing as well as bream, chessa & other species!
OR children & parents can also opt to visit the local village & school to learn more about the vibrant Zambian culture.
What to See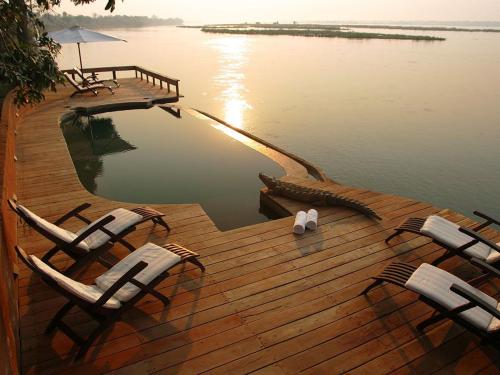 Lower Zambezi Nationl Park covers a 4092 square km area, host to large populations of elephant, many lion, leopard, side-striped jackal, hyena, hippo, buffalo, zebra, waterbuck and many other antelope PLUS the African wild dog and on occasion the aardvark!
Royal Zambezi Lodge offers the discerning traveller a front row seat to these unique wilderness experiences, all the while welcoming you 'home' to our luxury tented and thatched lodges overlooking the Zambezi River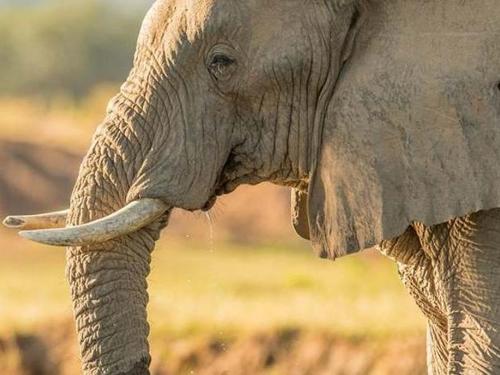 Your stay with us will leave you with an indelible desire and love for Africa, a yearning for your return to a place that has stolen a piece of your heart. An exciting African adventure awaits you in the Lower Zambezi National Park in Zambia.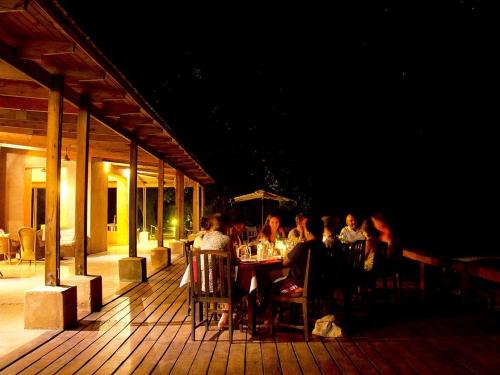 From the staff at Royal who will make you feel a part of the family, to the incredible areas to relax, the private luxury tents, the delectable cuisine, an award winning spa, the unforgettable memories of bush dinners, island lunches, sunset cruises and the unbeatable wildlife.
Create lifelong memories with your family. Immerse yourself into the wonders that nature and the African wilderness offers.
It truly is an experience of a lifetime.
Where luxury meets the wild ecompasses everything we are about & we look forward to welcoming you to the Royal family!
Read more about this magical piece of Zambian wilderness by browsing our website!