Location
Royal Zambezi Lodge is located on the banks of the Zambezi River at one of its widest points and borders the famous Lower Zambezi National Park (a 10 minute drive.) The lodge sits within the Chiawa Game Management Area which neighbours the larger Lower Zambezi National park. The area is set against the scenic mountain backdrop of the Zambezi Valley escarpment.
Access
Royal Zambezi Lodge is accessible by regular scheduled flights and charter flights from Lusaka (25mins). All flights land at the newly upgraded and surfaced Royal Aerodrome which is 5 minutes drive from the Lodge. Access by road takes a minimum of 5 hours from Lusaka requiring a four wheel drive. Access by boat is 1hr and 30 mins when collected from a lodge up river (2 hours drive from Lusaka) by one of Royal's boats.
Style
Royal Zambezi Lodge is a striking combination of contemporary style and comfort in a completely unspoiled bush environment. Offering king-size beds in large, fully netted, canvas tents under thatched canopies, comfortable sofas in front of roaring open fires and airy verandahs, the lodge is a luxurious base from which to explore this beautiful area.
Accommodation
Royal Zambezi Lodge is designed to accommodate 30 guests in 3 Presidential, 4 Deluxe and 8 Classic suites. The Presidential suites epitomize the luxury safari experience. Being 100sq metres in size with their own private sitting room, they offer space & privacy whilst allowing guests to fully immerse themselves in the wilderness that surrounds them. With private pools, outside showers, baths and private salas, the suites provide ultimate luxury and are ideal for families (an extra bed can easily be accommodated) honeymoon couples, special occasion holidays, or for those who simply want to experience Zambia's finest safari accommodation.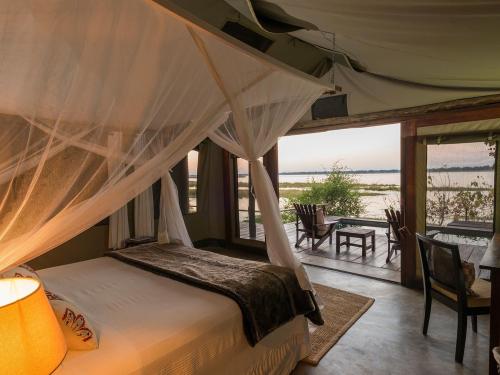 The four deluxe suites have private pools, a day bed (sala) and an inside and outside bathroom (shower and copper bath) giving guests the choice of showering inside or under the stars. The airy canopied canvas suites nestle under mature trees, and each is positioned for maximum enjoyment of the surrounding views and complete privacy. The Classic suites are private units complete with shady verandah and spacious en-suite bathrooms. The tents are impeccably furnished with a contemporary, understated elegance. Natural tones, luxurious textures and comfortable armchairs create a secluded retreat. Extra length sprung mattresses with pure cotton linen and fine down pillows ensure a perfect night's rest.
Guest Areas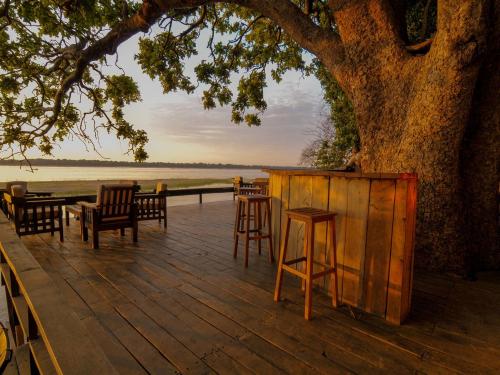 The open plan reception area, dining room and lounge have classic architectural lines and lofty thatched roofs. Two enormous fireplaces, comfortable sofas and armchairs, white linen tablecloths and cheerful personalised service create a haven of easy luxury. A wide copper-roofed verandah provides an informal space for al fresco dining or taking tea in the afternoon. Timber decks extend over the river shallows, perfect for fine dining under the stars, or sitting around the campfire listening to the sounds of the African night. During the day, the decks overlook a reed bed, a fascinating microecology affording close study of bird and fish life as well as elephant, hippo and buffalo.
In the evenings guests gather at the legendary Sausage Tree Bar, unquestionably the best watering hole on the river. Built around an ancient tree, its timber deck extends right out over the swiftly flowing channel, the perfect spot for sipping an ice cold G & T while the sun sets in a fiery spectacle. Next to the bar is a long oval infinity pool set in a stunning natural timber deck, the perfect place for cooling off with a tall cocktail or sun tanning next to the river after a morning game drive.
Cuisine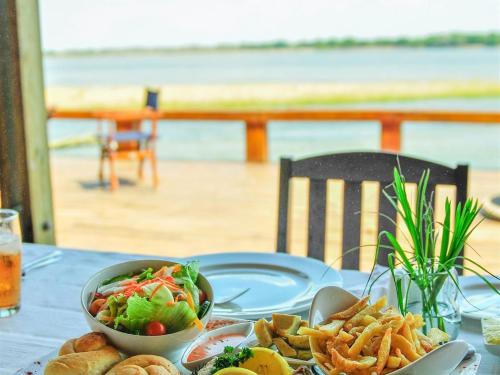 Meals are made from the finest fresh ingredients, dinner is served at either the long banquet table or at private tables under the stars, whilst breakfast and lunch may be served in the lodge or as a picnic during a morning of activities. For a special occasion, Royal Zambezi Lodge is happy to offer a candlelit dinner with a difference – on an island in the Zambezi – or in the African bush.
Spa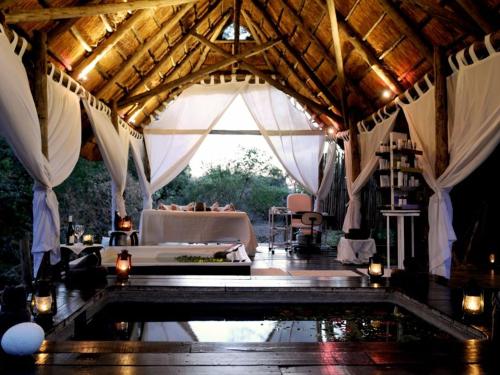 One of the only bush spa's in Zambia, Royal's spa facilities include two air conditioned treatment rooms, an outdoor treatment area, an aroma filled steam room, a Jacuzzi and a refreshing plunge pool. The therapeutic sessions offer an ideal retreat for guests wanting to escape their busy lives and experience a way of living often neglected. While the sights and sounds of the wild lull you into a state of complete relaxation and peace, breathe in the fresh bush air to awaken your senses and revitalize your mind, body and soul.
Children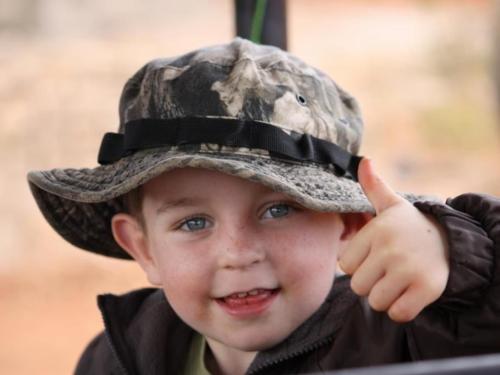 We accept children under 8yrs on request, but please note that this is a private, wilderness destination so parental supervision is necessary at all times. We provide early dinners for children for your convenience.
Activities
The location for Royal Zambezi Lodge was chosen particularly for the wide variety of activities available, including fishing, fly-fishing, game viewing, sunset river cruises, professionally guided canoeing trips, open vehicle guided drives, night drives and walking safaris.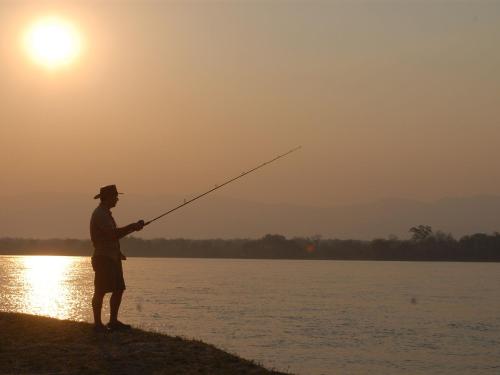 Fishing: The Lower Zambezi offers one of the finest freshwater angling experiences in the world. The best time for Tiger Fish is during our hot months between September and March. Expert resident guides take fishing excursions on new, fully-fitted aluminium boats. For guests who are new to fishing or fly-fishing, our guides provide expert instruction and assistance. Rods, tackle and flies are provided although enthusiasts may bring their own. All fishing is on a catch and release basis. Fly fishing is an extra $50 per person per day.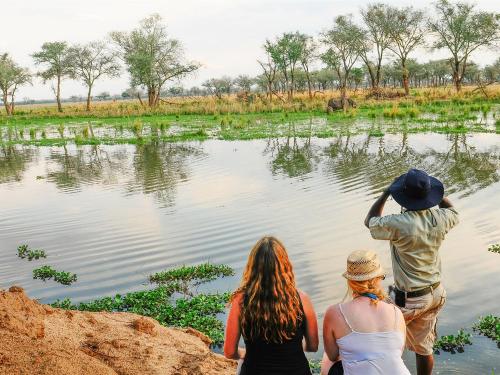 Game viewing: The lodge is surrounded by a game management area which offers fantastic game viewing in open woodland, grassy floodplains and riverine forest. The Lower Zambezi National Park, only five minutes drive away, is home to huge herds of Elephant and Buffalo, and offers frequent and reliable Lion and Leopard sightings. Our guides are qualified and enthusiastic, and between them have over 50 years of experience guiding in the Zambezi Valley.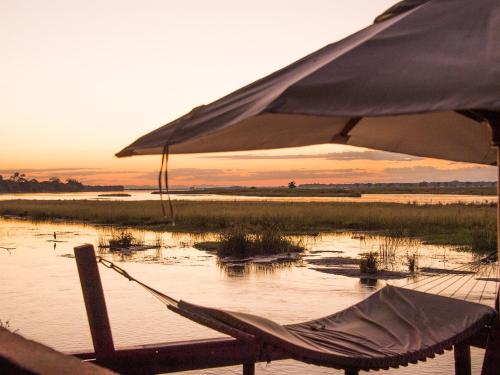 The river is an ideal place to view wildlife and birdlife. Clients can opt for open vehicle drives, night drives, bushwalks in the area or boat trips for game-viewing. Enjoy Walking Safaris, Photographic Safaris and Birding Safaris – the riverine ecosystem hosts spectacular birdlife.
Sunset River Cruises: Enjoy the true majesty and tranquillity of the Zambezi River with drinks on a sunset river cruise.
Canoeing Trips: One of the best ways to experience the true beauty of the river and get up close to animals on the river banks. Our guides are experienced and qualified for canoe safaris, and have a vast knowledge of the wildlife and birdlife of the area.There are few things more relaxing than drifting gently down the river in a canoe. Whether you are exploring the water-hyacinth studded channels, getting up close to elephant, buffalo and hippo, or bird watching, this is the best way to experience the Zambezi. Guides will take you out on morning, evening or full day excursions.
Recommended Equipment & Attire
The atmosphere at Royal Zambezi Lodge is informal, so casual neutral coloured clothing is both practical and acceptable. During the hot summer months of September to December cool clothing is essential & from May to August it can be quite cool at night and in the early mornings, so warmer clothing is advised. Hat, sunscreen, binoculars, camera & extra film, walking shoes and shoes suitable for boating are essential.
General Information
RECOMMENDED LENGTH OF STAY: take full advantage of everything on
offer, stays at Royal Zambezi Lodge should be a minimum of 4-5 nights.
CLIMATE: The climate on the Lower Zambezi can vary greatly. It is generally cool and dry from April to August, hot and dry from September to December and wet and humid from January to March.
TEMPERATURES: Minimum temperatures around 14˚C, maximum 40˚C.
MEDICAL: The lodge is covered by Medical Air Rescue Services, boats and vehicles are equipped with medical aid kits and the lodge managers are paramedic qualified. As the lodge is situated in a malarial area, it is strongly advised that clients take malaria prophylactics before and after their stay at the Lodge.