Cuisine
Royal Zambezi Lodge prides itself in serving the highest level of cuisine, and will happily tailor menus for dietary requirements. Our food and beverage manager trained in South Africa and has worked in top restaurants in England and Australia so brings inspiration from across the globe. To ensure you can enjoy your holiday at your pace we offer flexibility in meal times and your group will be seated at your own table so there is no rush.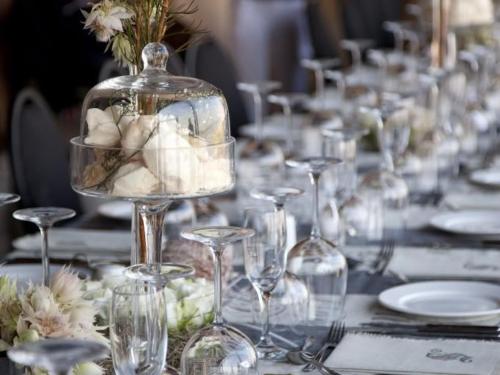 Enjoy a delicious breakfast overlooking the Lower Zambezi River, with the option of continental or a full cooked breakfast to get you ready for the day ahead. Our team of expert chefs will prepare dishes to order or simply whizz up a healthy smoothie.
Lunch can either be taken under the veranda at the lodge, or can be organised so that it will not interrupt a good day's fishing or game drive. With the option of a gourmet picnic lunch or a full outdoor buffet in the National Park, complete with white linen tableware, the concept of outdoor dining takes on a new dimension.
Tea will be served in the afternoon before you head out for an afternoon activity, and you will be able to relax on the comfy sofas in the lounge with a cup of tea and freshly baked cake or cookies.
Dinner is served at private tables under the stars, or by a roaring fire on a cooler night. Alternatively guests may relax in their rooms and have dinner brought to them on their private deck. To celebrate special occasions, guests may enjoy drinks by a camp fire and a candlelit dinner on a deserted island on the Zambezi or in the bush.
Meals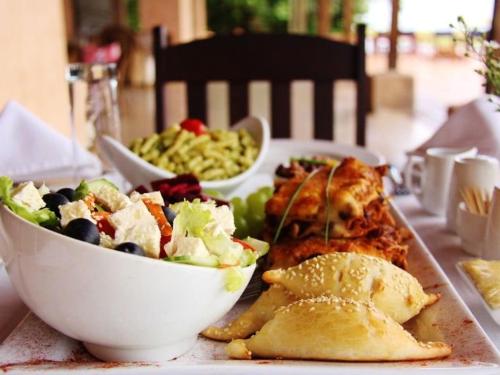 Early breakfast: 05.30am – 07.00am
Full Royal Breakfast: 07.30am – 09.00am
Brunch: 10.30am – 11.00am
(instead of lunch / organized the night before)
Lunch: 12.30pm – 1.30pm
Afternoon tea and cake: 3.30pm – 4.00pm
Dinner: 7.30pm – onwards
Example menu for a day at Royal
Royal Breakfast
Continental options including home made granola, cereal, yoghurt, fruit salad and freshly cooked muffins
Full cooked breakfast with options of bacon, sausages, poached eggs, mushrooms, tomato and baked beans

Lunch
Chicken and roast vegetable skewers, garden salad, spiced rice, 3 bean salad, butternut and chickpea salad and freshly baked bread rolls
Lemon tart
Tea
Mixed fruit cake and iced tea

Dinner
Starter – Seared pepper beef and beetroot salad
Mains – Grilled trout with potato and apple salad or Rolled chicken with garlic and rosemary potato wedges, with green beans and courgettes
Pudding – Chocolate fondant