General Manager: Natalie Black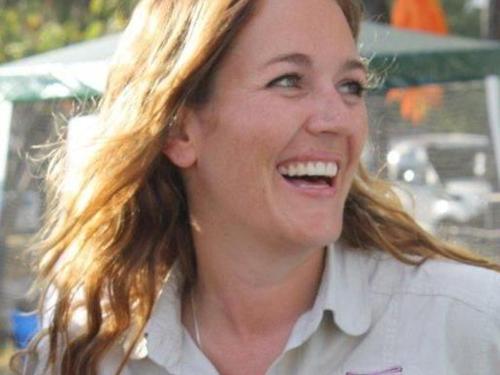 Natalie's love of Africa, the bush and animals started from a young age having been born in Zambia, lived in Kenya and then Zimbabwe.
When she was younger she spent many holidays with her parents in the Lower Zambezi camping and also just across from the lodge in Mana Pools. Natalie was educated in the UK and finished gaining a BSc Honours degree in Psychology from the University of Surrey.
After a couple of years working in London doing recruitment (where she developed her amazing people skills) she then decided to return to her roots and joined Royal Zambezi lodge in March 2010. When asked about her decision to return she says, "Africa is where my heart is. The way of life, the freedom, the people and the way it helps you understand and remain focused on what's important in life." For Natalie the best part of her job is being there when people experience Africa for the first time and giving them the best opportunities to see it, "I get to re-live the beauty and the wonder of it all through them again and again.
Lodge Manager: Ewan Black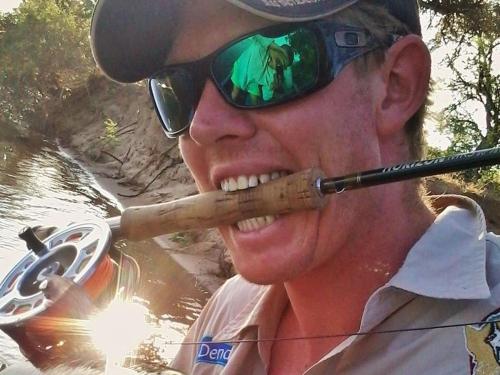 Ewan from a young age used to spend a great deal of time in the wild, whilst growing up in Zimbabwe.
On his family holidays he frequently visited the famous Mana pools and Zambezi along with many other National Parks and conservation areas in Zimbabwe. Wildlife interaction was his family's passion that has definitely been imbedded in him.
His enthusiasm for nature and animals is infectious and after completing an Adventure Tourism (Hons) degree in the UK he decided to join his parents in Tanzania and help them build and set up a new lodge of their own. When he had completed the building, he then managed the business and was also their deep sea fishing guide for 3 years – his biggest catch was a 120kg black marlin! Once the lodge was in full swing he decided to gain some other experience in Africa.
When a job at Royal Zambezi Lodge presented itself; Ewan new this was his calling.
Ewan started off as the maintenance manager and soon took over managing the guiding team. Three years down the line with Royal and he is now our Lodge manager as well as a licensed guide. We are very lucky to have him.
Food & Beverage Manager: Tiki Brown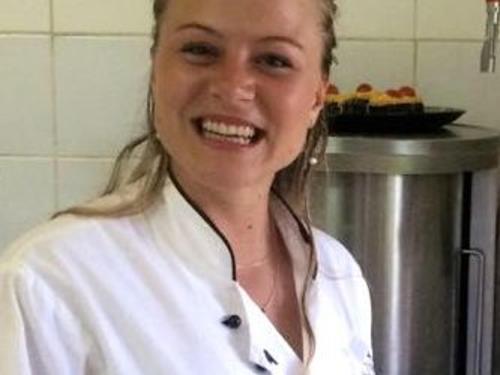 Tiki was born in Zimbabwe and moved to New Zealand when she was 11, after completing her schooling she moved to Australia to play polo for 3 years.
An avid animal lover Tiki has always dreamt of returning to Africa and living in the wild and the perfect opportunity presented itself when her parents decided to move to Zambia and she decided to join them. Her first job in the Zambian bush was a lodge in the Lower Zambezi where she promptly fell in love with the wonderful world of hospitality and cooking! This prompted her to attend the Warwick's chef school in Cape Town and on her return to Zambian accepted this position at Royal, it's fair to say that the Lower Zambezi is now in her blood.
Lodge Services Manager : Billy Muchelo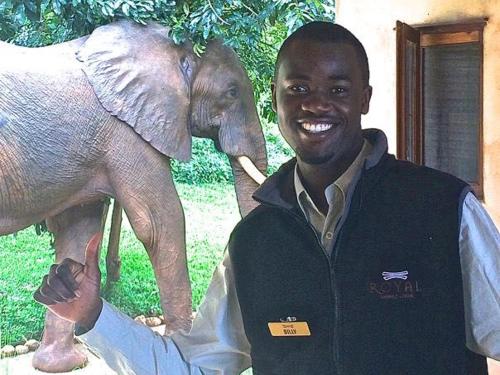 Born in Mufulira Zambia, Billy spent a greater part of his childhood in the Copperbelt. He moved to Lusaka to study hospitality management at the Hotel and Hospitality Training Institute.
As one of the top graduating students in his class, Billy was quickly snapped up by one of the largest tour operators in Zambia where he worked for several years before coming to join us at Royal. He is a fantastic host, calm and reliable and always willing to go the extra mile and extend Zambia's down to earth hospitality. Billy wakes up every morning with a cheerful smile ready to tackle what the day brings. During his spare time he likes to play football as he is a staunch follower of Manchester United.
Safari guide: Victor Kanzala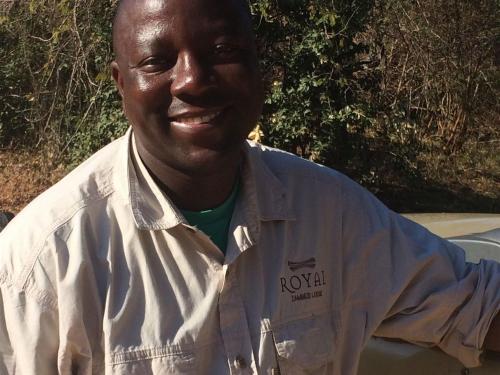 Victor Kanzala grew up in Mugurameno village in the Chiawa Game Management area.
He has always had an interest in wildlife, nature and conservation and becoming a guide has been a dream from when he was a young boy.
He initially started work in the safari industry as a staff cook and then as a waiter, however he was soon given the opportunity to start training as a spotter and a guide and was a trainee guide for two seasons before fully qualifying as a guide in 2008. He joined Royal in 2014.
Victor keeps himself passionate by not getting bored. Every client is special to him and he wants to share his knowledge and only then does he feel that he has done his work.
Safari Guide: Chris Musonda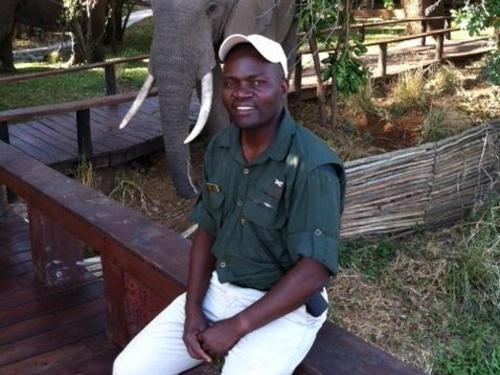 Chris grew up on the outskirts of Lusaka and always dreamt of working with wildlife and the wilderness, but living in the city had little opportunity to do this.
Chris completed school and started working in retail at the same time as studying accountancy. It was here that Chris met a friend who went to work in the bush and gave him the opportunity to see what the job was like. During his time visiting the bush he decided that this was the job he wanted to do so took a job as a storeman in the Lower Zambezi. Chris then used his friends books to study so he could take his first guiding exam which he funded himself. Having passed this with flying colours Chris was then able to train alongside an experienced guide. Chris became a qualified guide in 2007 and joined Royal in 2013.
Safari Guide : Morat Madzvanya
Morat, like most of our staff at Royal was born and bred in the local game management area.
Growing up in Chiawa Village he developed an early appreciation of nature and wildlife and whilst at school he became a member of the conservation club. This eventually inspired him to pursue a career in guiding.
Morat officially began working as guide in 1997 and he has previously worked with a number of camps in the Lower Zambezi Valley. Morat's favorite activity is canoeing as it makes him feel at one with nature and he loves meeting guests from all over the word.
Safari Guide : Leo Chimedza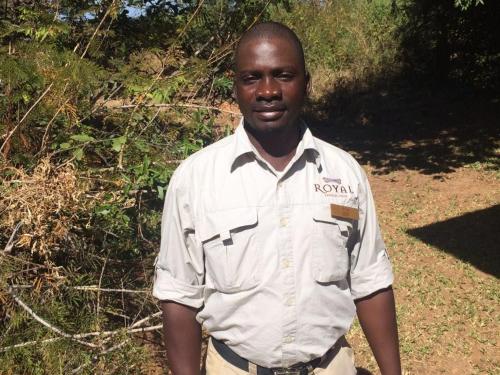 Born in Chiawa chiefdom and has spent his whole life living in the area.
Leo's first foray working in the valley was as a waiter/bar tender at one of the local safari lodges.
However, he already had an interest in conservation and guiding and took every opportunity to listen to the guides and learn about identifying birds, mammals, insects and reptiles. This led to him pursuing a trainee guiding course in which he excelled, achieving top results.
His favorite and strongest subject was bird identification and now as fully qualified guide, bird watching is the activity that he enjoys the most.